Piedmont Presbyterian Church Cookbook 1913
Piedmont Presbyterian Church Cookbook 1913
Portland Oregon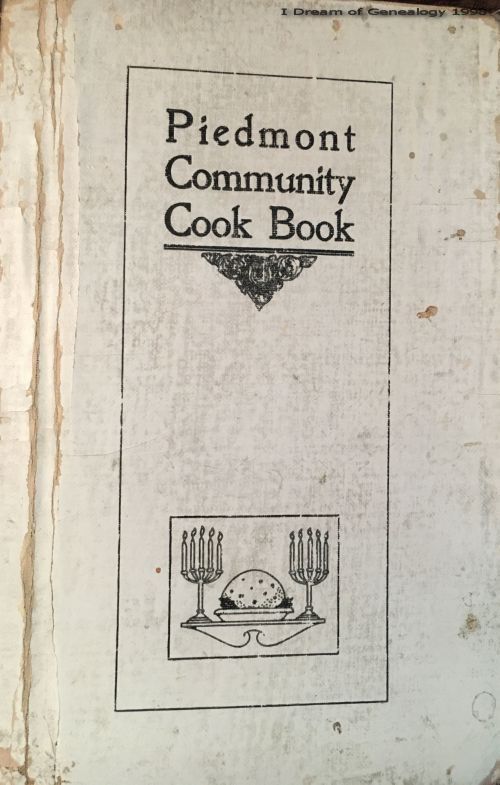 A Free Genealogy Database For Family Recipes
***********************NOTICE******************************
All content/format in this database is Copyright © 1998-2019 by
I Dream of Genealogy™ and may be utilized for private individual use. This database may be freely linked to but not reproduced in any manner. Any other use requires the express written permission of I Dream of Genealogy. To search this database with most browsers, hit Control-F
***********************************************************
Recipes to add?
Pages compiled by Alan Dolifka
Note about browsing the pages: The pages are presented in the order in which they were originally. Some pages are handwritten recipes that are NOT tested; use your discretion. Some recipes are in Czech and are, as of now, untranslated. Feel free to submit translations of these if you are able.
In addition, some recipes are not food; there is one recipe that is a floor polish recipe that uses turpentine (not recommended!). Remember, this was 1913 and ovens were unlikely to have timers or temperature control. Please consult baking times for similar items in modern day cookbooks or resources for time and temperatures.
Recipes in this Book: (Click on Link to go to that Recipe's Page)
Soups:
Soup Stock
Baked Bean Soup
Cream of Celery Soup
Cream of Potato Soup
Cream of Tomato Soup
Mixed Vegetable Soup
Noodle Soup
Peanut Soup
Poultry and Fish:
Boned Chicken or Chicken Gelatine
Chicken en Casserole
Chicken Fricasse
Clam Fritters
Delicate Fish
Fish Breaded and Fried
Fish Rolls
Hollandaise Sauce
Oyster Stuffing for Turkey
Roasted Chicken or Turkey
Salmon Loaf Recipe #1
Salmon Loaf Recipe #2
Meats:
Beef Loaf
Creamed Meat
Imitation Steak
Kol-Dormar
Meat Patties
Mock Duck
Molded Rice and Meat
Swiss Steak
Veal Birds
Sauces -- Cheese -- Macaroni:
Baked Rice and Cheese
Brown Sauce Meats
Cheese Fondu
Cheese Sauce
Cheese Scallop
Hollandaise Sauce
Spanish Spaghetti
Tartar Sauce
Tomato Cream Toast
Tomato Sauce
Want More
White Sauce
Vegetables:
Baked Beans
Baked Corn
Baked Onions
Baked Tomatoes
Boiled Dinner
Cauliflower
Corn Cakes
Creamed Peas
French Fried Potatoes
Potato Puff
Red Cabbage
Scalloped Cabbage
Scalloped Potatoes
Spanish Beans
Stuffed Onions
Stuffed Peppers
Sweet Potatoes
Salads and Dressings:
Boiled Salad Dressing
French Dressing
Mayonnaise Dressing
Combination Salads
Cabbage Salad
Cherry Salad
Corn Salad
Frozen Tomato Gelatine Salad
Marshmallow Salad
Salmon Salad
Shrimp Salad Recipe #1
Shrimp Salad Recipe #2
Stuffed Celery
Stuffed Tomatoes
Vegetable Salad
Sandwiches:
Cheese Pimentoes
Club House Sandwich
Dainty Round Sandwiches
Harlequin Sandwich
Olive Sandwich Recipe #1
Olive Sandwich Recipe #2
Rolled Sandwich
Sweet Sandwich

Chafing Dish Recipes:
Cadillac Chicken
Cheese Omelet
Creamed Chicken
Creamed Lobster
Creamed Oysters
Pimento Tunny
Rarebit A L'Americal
Spanish Sardines
Stewed Oysters
Welsh Rarebit
Breads and Muffins:
Baked Boston Brown Bread
Baking Powder Biscuits
Bran Bread
Brown Bread
Date Bread
Doughnuts
Ginger Bread and Icing
Graham Bread
Hot Water Ginger Bread
Nut Bread Recipe #1
Nut Bread Recipe #2
Oatmeal Muffins
One-Egg Muffins
Pin Wheel Biscuits
Popovers
Potato Doughnuts
Quick Process Bread
Rusks
Sour Milk Brown Bread
Sour Milk Doughnuts
Steamed Bread
Turn Biscuits
Whole Wheat Bread
Pastry:
Apple Pie
Banana Cream Pie
Banana Pie Recipe #1
Banana Pie Recipe #2
Cream Puffs Recipe #1
Cream Puffs Recipe #2
Custard Pie
Fruit Tarts
Lemon Cream Pie
Orange Pie
Pineapple Pie
Rhubarb Custard
Shortcake
Whipped Cream Pie
Cakes:
1-2-3-4 Cake
Angel Cake
Apple Sauce Cake
Brown Stone Front
Burned Sugar Cake and Caramel Filling
Chocolate Cake
Devil's Food Cake and Filling
Eggless Cake and Icing for Eggless Cake
Fruit Cake
Genuine Old Time Sponge Cake
Jelly Roll
Little Chocolate Cakes
Mock Angel Cake
Never-Failing Layer Cake
Plain Cup Cakes
Pork Cake
Potato Cake
Prune Cake
Spice Layer Cake
Sponge Cake
Sunshine Cake
Townsend's Cake
Fillings and Icings:
Butter Icing
Cream Filling
Maple Filling for White Cake
Marshmallow Icing
Mocha Icing
Pineapple Filling for Cake
Royal Icing
Soft Icing
Water Icing
Cookies:
Brownies
Chocolate Cookies
Cocoanut Macaroons
Dandy Cookies
Date Crackers
Frosted Date Cakes
Fruit Cookies
Ginger Snaps
Nut Macaroons
Oatmeal Rocks
Peanut Wafers
Rocks
Sugar Cookies
Twisted Cookies
Walnut Cookies
Desserts:
Apple Cobbler
Apple Snow
Apricot Pudding
Baked Apples
Boiled Apples
Caramel Blanc Mange
Caramel Custard
Caramel Sauce
Carrot Pudding
Christmas Plum Pudding
Cocoanut Trimbales
Coffee Souffle
Delicate Indian Pudding
Fig Pudding
Fruit Salad
Gelatine Pudding
Grape Mould
Marshmallow Frappe
Macaroon Souffle
Nut and Date Pudding
Orange Pudding
Pineapple Bavarian Cream
Pineapple Pudding
Prune Whip
Pudding Sauce
Rose Dessert
Snow Pudding
Spanish Cream
Vanilla Sauce
Frozen Desserts:
Coffee Ice Cream
Lemon Ice
Maple Mousse
Orange Ice
Peach Surprise
Plain Ice Cream
Strawberry Ice Cream
Candies:
Butter Scotch
Caramel Fudge
Chocolate Nut Fudge
Cornstarch Fudge
Fondant
Maple Cream
Maple Puff
Marshmallow Fudge
Molasses Taffy
Nougat
Nut Fudge
Patience
Peanut Candy
Pinoche
Pickles and Preserves:
Cherry Olives
Chili Sauce
Chow-Chow
Crabapples, Sweet-Spiced
Cucumber Chips
Green Tomato Pickles
India Jam
Mustard Pickles
Orange Marmalade
Peach Marmalade
Picalilli
Pickled Onions
Pineapple and Apricot Conserve
Prune and Orange Marmalade
Quick Orange Marmalade
Spanish Relish
Spiced Peaches
Sweet Cucumber Pickles
Sweet Tomato Pickles