Returned Family Heirlooms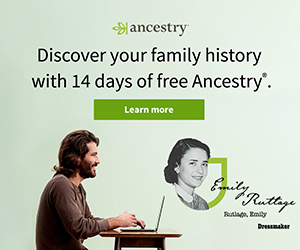 Returned Items - Our Success Stories
Returned - Genealogy (MARGERUM / OSTRANDER / STANTON / FLOOD / DAILY / COCHRAN)
Genealogy of several families. Done in 1970's & 80's. Few photos, many birth, death & marriage records, some wills, several family stories, lots of letters. An early computer & genealogy program were used, however nothing but printouts are in the box. Family names: Margerum, Ostrander, Stanton, Keiler Drayer Evans, Flood, Daily, Cochran. Was done by Edward Glenn Margerum & wife Katy Evans Margerum of Hurst, TX..both now deceased. - Item was returned to family.
Memory Book - Col. William P. Murray IV
I purchased a Memory book
"Congratulations Colonel William P Murray IV", inscribed "To Our Special Father, Who Was Our Hero Before He Was A Colonel April 1, 1998"
It contains printed photos, and names:
Auntie Jen / Cindy (sister) / General Abel / Judy (wife) / Bill / Rosemary (daughter) / Evelyn / Mother and Daddy
The book was purchased at a store that sells donated items, in Hurst TX, on May 31, 2005. Perhaps it was included with donated items by mistake, or donated without all family member's knowledge.
Update - "I placed this ad, and have returned the book to Col William P Murray, after he contacted me. He "googled" his name on the Internet, at the suggestion of a friend, as he put it "you never know what you will find about yourself". He found me! He had no idea how the book came to be where I purchased it, unless it was in a box of items mistakenly donated to charity." Fran
Photo - Catharine Durst LENHART
I have a pic of Catharine Durst Lenhart . I would love to reunite this picture with someone who is a direct line descendant
Update - Just wanted to share my great story about this photo. Found two ggranchildren of this lady. One was more excited than the other and responded with direct line proof immediately. I sent her the photo and a copy of the photo to the other family . I asked the family that received the original photo to please go and make a good copy for the other family. It was nice to reunite this photo with its family. And would only hope someone would do the same for me. thanks - Cherese
McLaughlin Family Bible
Hi, My grandmother has many genealogy records. One item she has is a very old bible with births, deaths, and marriage entries primarily for the John McLaughlin family. He appears to have been born in Bedford, NH in 1800, but was married in Guilford Maine to Martha Gafs in 1826 and had 6 children. I'm looking for anyone who would be interested in this information and/or the bible itself. If you know of anyone, or can point me in another direction, that would be great. Thanks.
Update - I have a posting on your page, which successfully matched the bible up with a new owner. Jen
SKEELS Family - 1832 Sampler
I bought a sampler at the closing of a yard sale to keep them from throwing it in the trash. I would like very much for some of the family to have this. The name is Sophronia Skeels and this item was found in an old house in Ohio. The date is 1832 on the Sampler. I know I would love to possess something that one of my grandmothers had done with her own hands and hopefully there is a direct decendant out there who feels the same.
Update - The sampler in question has found a home. A female descendant of one of Saphronia's siblings now has the sampler. Thanks to all involved for bringing it home. Richard E. Skeels, Crossville, TN
TINSLEY Baptismal Booklet - 1958
This pretty baptismal booklet is several pages long. The certificate inside identifies the baptized as Scott L. Tinsley, child of Herman Lee Tinsley and his wife Janet Kay. He was born at Los Angeles CA in 1958 and baptized at Concordia Lutheran Church in Los Angeles on 31 August 1958. Sponsors were Mr. and Mrs. Ernest Larson. This treasure is ready to go home.
Update -
"The Baptismal booklet was in excellent shape. My grandmother wasn't able to be at Scott's baptism, so she really enjoyed looking through it. The couple who witnessed the baptism...the name of the church...each little item brought back memories. Thank you for "rescuing" the booklet and seeing to
it that it was returned to our family." The Crutchers
Joseph Perkins Bible - 1868
I have an Old Family Bible, which I purchased from Ebay in June 2003, The seller shipped from Tyler Texas. It is "The Holy Bible, contining the Old and New Testaments: Translated out of The Original Tongues" published by The New York American Bible Society, 1867. On the inside front cover is the name Joseph (?) PERKINS, April 15, 1868. There are other names and dates on the inside pages but they are difficult to read.
Update -
"Thanks so much for your site. I had a reply and found a home for the Perkins Family Bible. Come to find out the person I sent it to lives only a few mile away from me here in Kentucky. They were most thankful. " Rose
Rebne / Rude Family Photos - Brookings, South Dakota
Two photos found at a California flea market by researcher Alan. One is a group photo of the Brookings First Lutheran Ladies Aid taken in the early 1900's in Brookings, South Dakota. Five People in the photo are identified as "Grandma Ingra Rude", Mother (Mrs. Geo. Rude) and sister, Pearl Rude, as well as Rev. and Mrs. F.C. Norman.
The second is a family photo taken 1879 or 1880 and identifies Aunt Bessie Rebne, Uncle Ole Rebne, Jennie Rebne (Mrs. Geo. Rude) , Uncle John Rebne and Aunt Julia Rebne (Mrs. Ole Rude).
To I Dream of Genealogy,
I've often looked with sadness at the family pictures lying in a pile at a flea market or antique shop, who were those people and how did they get so far from the people who would cherish them. Recently I was contacted by Alan Dolifka, concerning photos that he had, they were of the Rude and Rebne families, he asked if they could be ours, they indeed were and we are thrilled to get them back. What a service and what a kindness, may all involved in this service be truly blessed. Sincerely, Deanna Rude
Frank Pellett Scrapbook - circa 1925 - Iowa
Hello--I purchased a scrapbook at a thrift shop a few months ago. It is filled with articles, pamphlets, etc. about a Frank C. Pellett of Atlantic, Iowa. There is also a letter from Frank to his son, Kent, dated 1925.
Apparently Mr. Pellett was a world renowned expert on beekeeping. It was interesting to read, but I would love to give it to someone in the Pellett family. Mary Kennedy
**Update: "Hello--I wrote in a short time ago about a scrapbook I had all about Frank C. Pellett. I am happy to say, that thanks to Susan Davis, it has a new home!! She located a David Pellett, and when I called, it turned out to be Frank's grandson. The scrapbook will soon be on its way from Iowa to Rhode Island."

Mary Kennedy
Acor Wedding Bible - Circa 1880
I found you by browsing county records for a Miss Rachel C. Acor. I have her wedding Bible. She wrote her name in the front page that way. And the city of Erchango Pa. is written below, both in pencil. There is a newspaper clipping for the wedding to a Mr.W.H. Auteu of Mooresberg and Miss Acor of Exchange. The Rev Savidge did the wedding, and Montour Co. is also listed as the Co. of both People. The date of the event was "Od on the 24th of Dec." No year was mentioned in the article but on the back there was an add for good things for 1878-9. The Bible Itself was printed 1868 by Am. Bib.Soc. The size is 4" X 6" X 2" thick. I found the name but the date was 60 years in the future. The item was found in a house that I bought In Massillon Ohio 25 years ago. I'd be happy to pass it on to the family or decendents of either one of these folks.
**Update : Visitor to our site, Susan Davis of California, helped Barney locate the Acor family in Idaho and returned the bible. The Acor family never acknowledged the receipt of this beautiful gift. With a great attitude, Barney says - "Sometimes the action itself is it's own reward." To Barney: Every genealogist and family historian who treasures these items thanks you for your outstanding contribution!
Kanouse Family Bible - 1868
I purchased a bible about 7 years ago in the Midwest at a community playhouse for 50
cents. The bible is dated 1868. When I arrived home ,I looked it over and found it had a "Family Tree" inside. The bible I believe belonged to Peter Kanouse from Michigan. He was married to Lonilla Wolcott in 1847. Other names mentioned are Jacob Kanouse who married Mabel Drake. Believe this man was a judge. Also Edward Kanouse, Peter Kanouse, Agnes Kanouse and Winfield Kanouse. I would like to give this bible to a relative of the Kanouse family. Thank you Rosemary Terry
*Update : In June I posted a message about a Kanouse Family Bible I had. I did find a family member whom I am sure is well deserving of it and I was very happy to part with it to finally put it in the hands of family. Rosemary Terry
James Herblin - Military Training Manual - 1914
I acquired this book at a garage sale in Kennewick, Wa. about 1995. It has a handmade cover stating " Return to Lieut J.G. Herblin, Gainesville, Texas" - Inside cover "Second Leut. Co. M 4th J.G. Herblin Gainesville, Texas June 26 1917." It includes newspaper clippings referring to a mother- "Mrs. W. L. Herblin" and son "James" - and his promotion to second Lieutenancy while a member of the Gainesville Machine Gun Co. now at camp Bowie. A second newspaper clipping "Lieutenant Herblin of the 143d Infantry returned from furlough with his wife and two children". Also included are 4 - 31/2" x 51/2" negatives of military pictures and diagrams. Please see if this can be reunited with the Herblin family. Max Cole
*Update "To whom it may concern at I Dream of Genealogy:
Very exciting news! Mr. Max Cole responded to my email, and indeed, the military training manual/documents/negatives, et al., all belonged to my grandfather, Lieut. Col. J. G Herblin. Mr. Cole advised he would be mailing these items to me within the next few days.
I am so happy to have found your website (and even happier that Mr. Cole wrote to you about his "found treasure")!!! THANK YOU! THANK YOU! THANK YOU!!!!! Karen Herblin Busby - Sugar Land, TX *
Gillis Scrapbook 1903-1968
The scrapbook of Frank (Francis) J. Gillis, son of Joseph Gillis and Mary Shoski, b. 28 Oct 1903 in Wilkes Barre, Pennsylvania, baptized 08 Nov 1903 at St. Mary's Church, Wilkes-Barre. He had a brother named Joseph F. Gillis, Jr. This book was located in Big Bear Lake, California.
Note: Social Security Index reports that Frank GILLIS, b. 28 Oct 1903, d. May 1969 SS#: 085-05-8485 Issued in: New York; Last Residence 91401 Van Nuys, California
Frank graduated from the University of Pennsylvania Law School, afterward working in Washington D.C. for the Securities and Exchange Commission and later entering private practice in Beverly Hills, CA. and in the 1960's represented the Westates Petroleum Company. The scrapbooks contains membership cards, professional letters, poetry, pictures of him as a young man, newspaper clippings of his career and life.
Gillis Birth Certificate - 1941
This certificate is registered to a Ronald Blair Gillis, b. 1941 in Albemarle Co., VA to Frank Joseph Gillis and Joan Marie Gaylord Gillis.
Gillis Passport Application - 1954
This 1954 passport application was filled out by Joane Hazel Gillis b. 1909 in Bloomfield, NJ, residing in 1954 in Los Angeles. She was the daughter of Malcomb Vartanian of Armenia and Grace Margaret Rooney of Plattsburg, NY. She was married on 30 June 1934 to Frank J. Gillis, b. 28 Oct 1903. They divorced on 06 Mar 1953. Hazel's travel plans were to depart from NY and travel for 3 months in the Summer of 1954 to England, Norway, Sweden, Denmark, Holland, Germany, Austria, Italy, Switzerland, France and Spain.
Note: This application was apparently never turned in or certified. There is no signature, photograph or witness affidavit.
*Update: "Thank you very much for rescuing and then returning the Scrapbook, Birth Certificate, and Passport Application to our family. I was excited and thrilled to learn that the Scrapbook and papers existed. From a genealogical standpoint, the information that you saved will fill in many missing pieces to our Gillis Family History. It will be my pleasure to hand over these irreplaceable items to Frank Gillis' nephew. Thank you again!" Nancy Knizer, Tunkhannock, PA*
Thorn Family Bible
Family Bible of Clarence Leroy Thorn Clarence Leroy Thorn B.2-6-1913; Spouse Gladys Viola Hyatt b. 5-19-1913 date of marriage
10-7-1933 in Walters Oklahoma. My sister-in-law rescued this Bible, it was headed for the trash! I would love to return this treasure to a family member. Thanks, Elaine A. Fink, Arlington, Texas
*Update : Contributor has now located a new home for this treasure with a family member of the bible*
WENDLER / SCHIFFELBEIN / PUHL / HAEFNER Family History Page
Located in an antique store in Nebraska, this family history page appears to be either an old family tree torn from a bible or done on its own. Most dates range from 1800's Russia (Sammara) to 1919. Several other surnames births, deaths, and marriages appear on this.
*Note: Currently on hold for verification of descendants*
UPDATE: - "I want to thank you so much for returning this to our family and for all the work you did in preserving it and even the way you sent it to us, taking such care. How it got out of the family, I will never know, but I can assure you it will never leave again! Thanks for all you do to volunteer your services to helping us piece together our families" Nora Wade, Davis, CA
Jane Frances Mahone & Eliza Hines Yarbrough - Sampler
I was given this sampler by a friend in 1968 or 69 who had found it in an old trunk in a shed on property outside Ft. Benning, GA. Unfortunately, I do not remember where exactly (whether in GA or in AL) it was found. I have tried to locate info on these two girls on familysearch.org and rootsweb. No luck. Maybe someone out there is looking for one or the other girl. The names are Jane Frances Malone and Eliza Hines Yarbrough. The birth dates are 1814 and 1816. I will be more than glad to send it along. No Charge, of course!
UPDATE: - The sampler has been returned to a direct descendant of Eliza. Thanks to Brenda Kelley for this information and helping another family to recover their treasure.
1850 Family Bible: ROBERTS, NICHOLS, RUHL & BUCK Courtesy of Peggy Rowe
I have found & purchased a 1850 Family Bible from an antique store in Calif. Within the pages are family histories. The family lines listed in the bible include: ROBERTS, NICHOLS, RUHL & BUCK, and are listed below. Most persons are from either Franklin, PA, a few from NY, CA, though most are Unknown locations / various dates ranging from 1830-1849.
ROBERTS:
Seth B. ROBERTS m. Harriet E. ROCKWELL, 1850 | Hattie J. ROBERTS m. Wm. E. NICHOLS, 1878 |

Herbert ROBERTS m. R. MCMURRY, 1888 | Andrew Herbert ROBERTS b. 1852 | Hattie Irene ROBERTS b. 1857 |

Della Eva ROBERTS b. 1859
NICHOLS:
Cora Irene NICHOLS, b. 1/9/1882, married Charles Newton BUCK on Dec. 29, 1910 | Marcia H. NICHOLS m. L.V.RUHL, 1913 |

Wm. E. NICHOLS m. Hattie J. ROBERTS,1878 | Rene Mary (May) NICHOLS, d. Oct. 4, 1879
RUHL:
L.V. RUHL m. Marcia H. NICHOLS in 1913-PA | Max Nichols RUHL,b. 1915, PA | John Henry RUHL, b. 1916, PA |

Donald Albertus RUHL, 1921 | Margaret Gail RUHL - 1945, PA | Peter Anthony RUHL, 1945 | LynnAnn RUHL, 1946 |

Mary Marcia RUHL, b. 1946 | Gretchen Ann RUHL, b. 1946 | Wm. Edward RUHL, b. 1948
BUCK:
Charles Newton BUCK, died July 26, 1949 in CA - m. Cora Irene NICHOLS, 1910 - PA | Harriet Louise BUCK - b. 1912 |

Gillian Nichols BUCK, b. 1914 PA |
UPDATE: - "I am so happy to inform you that through your website listing of the bible I found, I was contacted by verified members of the families listed with in the bible's pages, and I was able to send this family treasure back into it's true lineage. What great joy to know that this special heirloom has found it's way back to where it belongs and will be cherished always! Thank you for your site & helping to take this precious item home." Peggy Lynn Rowe, Los Angeles, Ca.
Are you in the possession of any lost or interesting family items that need to find their history? If you do, and tell us all about the item, how you acquired it and what you know about it. We will post it here so that others may contact you about it.