Malin Cemetery Burials and Gravestones
Malin, Klamath County, Oregon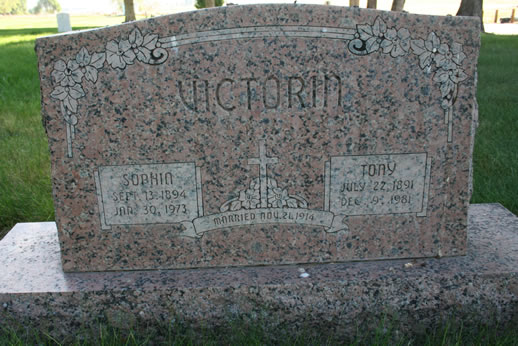 Move Cursor over Image to Magnify
Tony Victorin
b. 22 Jul 1891
d. 09 Dec 1981
Married 21 Nov 1914

Sophia Victorin
b. 13 Sep 1894
d. 30 Jan 1973
Notes and Other Family Information:
Both descended from early Malin pioneers. Tony was born in Czechoslovakia and was the son of Joseph and Elizabeth Victorin - came to Malin in 1909. Sophia arrived in 1911 and was the daughter of John and Mary Brothanek. She was born in 1897 in Gann Valley, Buffalo Co., South Dakota.
Tony worked for Carr Ranch and Sophia worked there also. In 1914 they were married and in 1917 lived in Malin, where they had a son James (born at the home of Sophia's parents) Also had daughters, Elsie and Margaret. Son Joe was born abt. 1926. They all lived on the stateline and Harpole Rd.