***********************NOTICE******************************
All format in this database is Copyright © 2011 by I Dream of Genealogy™
and may be utilized for private individual use. This database may be freely linked to
but not reproduced in any manner. Any other use requires the express written permission
of I Dream of Genealogy. All content is copyright of individual compiler / submitter.
Photos are property of the photographer - do not link to individual photos.
************************************************************
Westwood Village Cemetery Burials and Gravestones
Los Angeles, California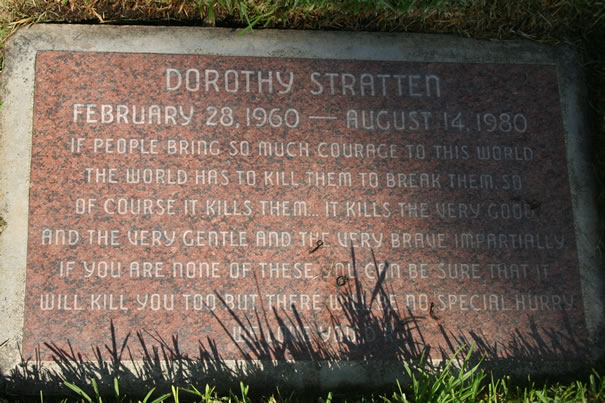 Move Cursor over Image to Magnify
Dorothy Stratten
b. 28 Feb 1960 in Vancouver, British Columbia, Canada
d. 14 Aug 1980 in North Hollywood, California
If People Bring So Much Courage To This World,
The World Has To Kill Them To Break Them, So
Of Course It Kills Them... It Kills The Very Good
And The Very Gentle And The Very Brave Impartially.
If You Are None Of These, You Can Be Sure That It
Will Kill You Too But There Will Be No Special Hurry.
We Love You, D.R.